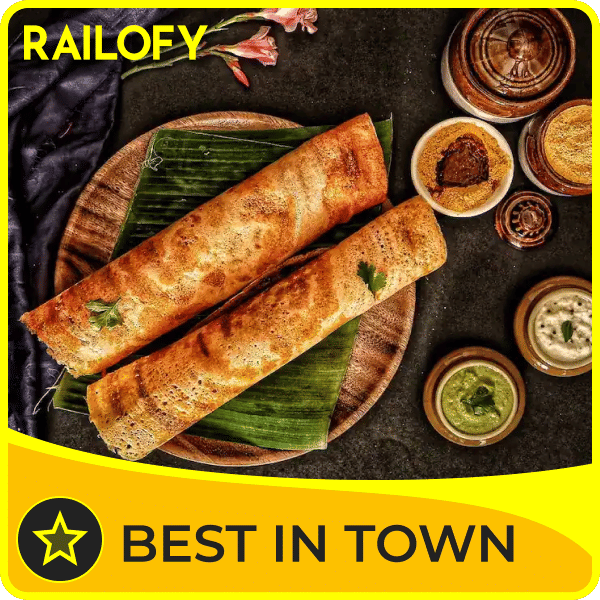 Sharma Vishnu - Pure Veg at Undefined
Bhopal, Madhya Pradesh-462003
Recommended, Veg Thali, South Indian, Veg Combos, Veg Biryani, Indian Mains, Chinese, Roti and Breads, Sandwiches & Burgers, Italian
Timing:
06:35 am to 06:25 pm
4.8
Reviews
Travelling through Undefined by train and worried about getting a meal that's hygienic and tasty, and affordable at the same time?
Before we answer that, did you know Undefined is known for its serving some of the best dishes like Masala Dosa, Veg Biryani, Chole + Rice, Butter Paneer + Kulcha, Butter Paneer + Laccha Paratha, Butter Paneer + Roti, Combo Paneer + Chole Kulcha, Kadai Paneer + Naan, Kadai Paneer + Kulcha, Butter Paneer + Naan, Kadai Paneer + Paratha, Rajma + Roti, Kadai Paneer + Roti, Rajma Rice Combo, Dal Fry Rice Combo and many-more delicacies. Travelling through undefined and not savouring these dishes is the same as going to Goa and not going to beaches.
Wondering how to enjoy these authentic Undefined dishes while travelling in train? At Railofy, we have the answer.
Railofy is an IRCTC-approved e-catering service that delivers food on train, directly to your seat from the restaurant of your choice, so that you don't miss out on the delicacies of Undefined. At Railofy, we take pride in offering the best food delivery services that ensures you get nothing but the best when it comes to preparing, packing, and even delivering your food, right up to your seat in the train.
So next time you travel through Undefined, don't forget to order through a wide range of mouth-watering meals from Sharma Vishnu - Pure Veg in Undefined and make your taste buds happy.
Now you may order your favourite food online, the way you want - through our app or website, or even call. And As you travel in train, we make sure you get your dish served fresh and hot as your train reaches Undefined. And guess what, you don't have to run around at the station, as the meal reaches you directly at your seat in the train, just the way you want it.
And as you enjoy your meal, you have the assurance that it's been prepared, packed, and delivered, keeping your health and taste in mind.
FAQS
Where is Sharma Vishnu - Pure Veg located in Undefined?
What types of cuisines does Sharma Vishnu - Pure Veg offer?
What are the restaurant's operating hours?
How much time in advance should I place my food order?
Is there a minimum order value required for delivery?
What is the average customer rating for Sharma Vishnu - Pure Veg at Undefined?